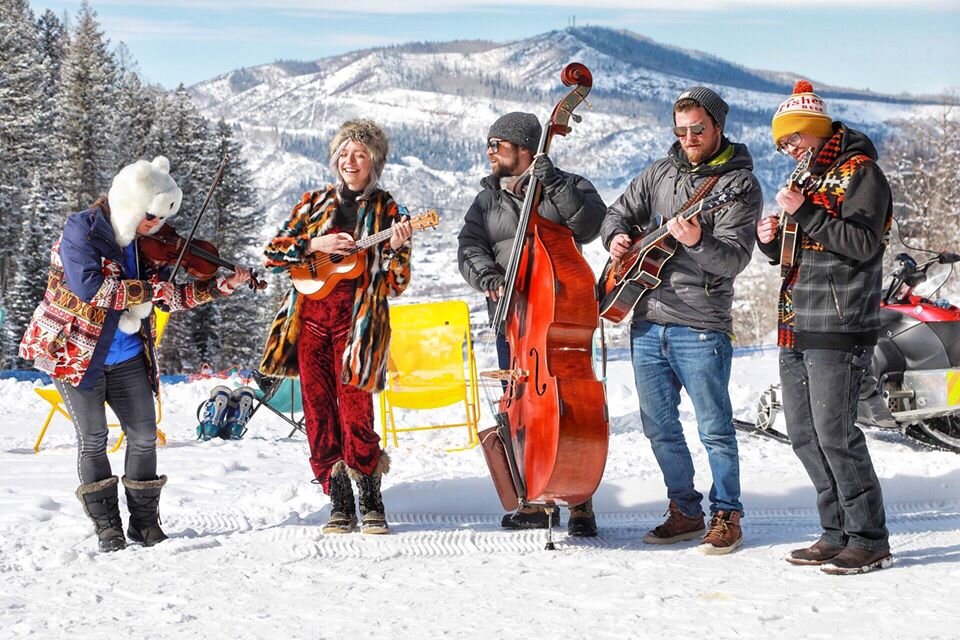 HAILED AS "THE HOTTEST BAND IN THE WASATCH" BY THE INTERMOUNTAIN ACOUSTIC MUSIC ASSOCIATION, PIXIE AND THE PARTYGRASS BOYS CREATE A UNIQUELY AMERICAN SOUND THAT CAN TURN THE ROOM INTO A RUCKUS, BUT OFFERS A FULL VARIETY OF OTHER DYNAMICS AS WELL – APPROACHING BLUEGRASS/FOLK WITH A CLASSICAL AND JAZZ BACKGROUND WHILE INCORPORATING ELEMENTS OF BROADWAY, POP-PUNK, AND AN UNABASHED LOVE FOR HAVING A DAMN GOOD TIME. 
 THE BAND HAS BEEN TOURING WHILE STEADILY GAINING A FANBASE NATIONWIDE AND PLAYING FESTIVALS INCLUDING: HIGH SIERRA, DELFEST, PEACHFEST, JAMCRUISE, AND WINTERWONDERGRASS.
Opening tonight is Wood Belly at 5:30pm
Honest, soulful, and bearing a sound all their own, Wood Belly sprouted from the roots of bluegrass to notch a unique home in the broader Americana scene and continues to captivate audiences across the country en route. With an unrelenting dedication to original songwriting, harmony singing, and artful arrangements, the quintet is forging a sound that is based in newgrass and flavored with alt-country, rock, and just enough jam to glue it all together.
Wood Belly established themselves as a staple of the Colorado and national acoustic music scene by winning the 2018 Telluride Bluegrass festival band competition and being nominated for an IBMA award. Bluegrass Today said "Even now, it's safe to determine that they're ones to watch…the freshness and vitality they bear elevates their standing and assures their status as instant contenders". That freshness continues today as the band takes on a new shape. With a restructuring of the rhythm section, Wood Belly has opened up a world of dynamic range and dimension to be explored.
Adding a drummer was a bold move for a band rooted in Bluegrass tradition, but a creative and adaptive musician like Dylan French was an easy call. The band has always strived to play to the song and give each composition just what it needs, which is why French is a perfect fit. He is well versed in a variety of styles and has quickly made his own imprint on the Wood Belly sound.
Singer-songwriter and multi-instrumentalist Brennan Mackey had been on the band's radar for a long time. Having already carved out a following in Denver and beyond with his own indie rock band King Cardinal, his writing, singing, and bass playing bring a fresh color palette to Wood Belly's already distinguished sound.
Additional local musical support tonight by David Burchfield at 5pm